With the help of digital neighbourhood network Hoplr, you can easily share a help request with many of your neighbours. Read how to register for your Hoplr neighbourhood, here.
If you want to post a message in your Hoplr neighbourhood, you'll need to pick a category first. Click on one of the tiles at the top of the neighbourhood feed (Home).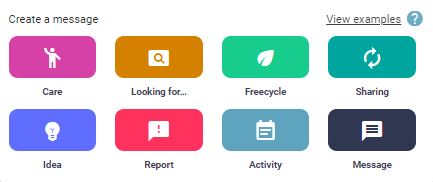 You're looking for help with a chore you're having trouble doing yourself. For health reasons, perhaps. Walking the dog, grocery shopping, cooking, cleaning the gutter,... Hoplr makes it easy to share your help request with the neighbourhood.
Click the 'Care' tile.


Choose a

clear title and description. If you want, add an image and/or file.




Select up to two

categories

that fit your help request. Click 'Create message'.




Your message has a button neighbours can click to start a

private conversation

with you. You won't be able to see this button.




Did one of your neighbours help out?

Close your request and thank them. They will get a notification.