If you want to post a message in your Hoplr neighbourhood, you'll need to pick a category first. Click on one of the tiles at the top of the neighbourhood feed (Home).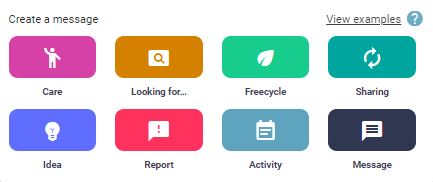 If you have an item you no longer need (but is still in good condition), you can give it away on Hoplr. Not only is it beneficial for social contact within the community to help a neighbour, but it's close and easy to make arrangements, too. Remember: don't use Hoplr to sell items.
Click the 'Freecycle' tile.


Choose a clear title for your message.


Write your message, keeping the Hoplr house rules in mind.




Add a clear picture of the item you're giving away.


Click 'Create message'.




When practical arrangements are in order, exchange contact information in private chat.


Comment on your own message once the item has found a new owner. There's no need to delete your message, it may still be of help to others.
Examples:
Free: chicken fence
Giving away two chairs in great condition
Leftover vegetables from garden