Via Hoplr, you can communicate with external parties in three ways. Read: what is an external party?
Comment on messages
If your local government is using Hoplr, this means that it can post messages in your neighbourhood. About road works, surveys or events for example. You can comment on these messages. Rarely, an external parties will turn off the comment section.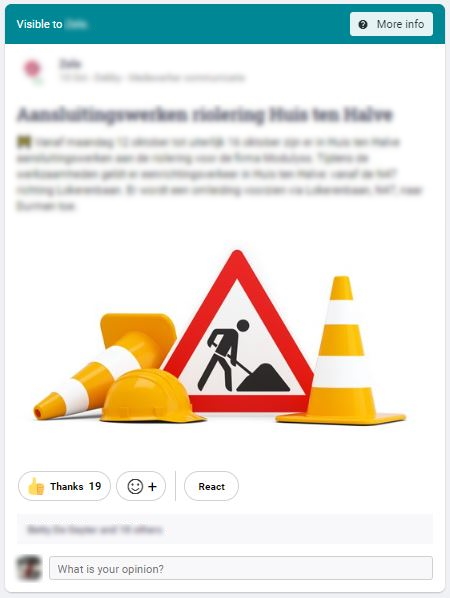 Share your message
You can share a message with an external party. Remember, external parties have no access to the content of your neighbourhood. So if you want them to see your message, you specifically have to indicate that you do.
You can share two types of messages with an external party, as long as they're connected to the Service Dashboard. Read: Is my local government or another external party from my area connected to Hoplr?
Click on one of the two message types below for instructions:

Contact a community worker
Sometimes, there are social profiles such as community workers, care workers or community police officers present in the Hoplr neighbourhood. They serve as a link between the neighbourhood and the local government. These profiles have an icon next to their profile name. Feel free to send them a direct message.